Pinatubo, 1991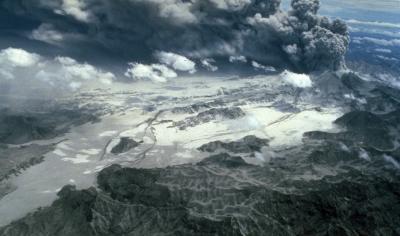 Aerial view of
pyroclastic flow
deposits from the Mount Pinatubo eruption in 1991.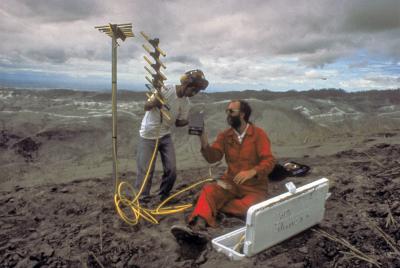 Scientists from the U.S. and Philippines install a new seismic station after 15 June 1991 eruption of Mount Pinatubo, Philippines.
VDAP's first major test was in 1991 in the Philippines, where Mount Pinatubo threatened two U.S. military bases, as well as villages and towns around the volcano where hundreds of thousands of Filipinos lived. Swarms of earthquakes and small explosions spurred the Philippine Institute of Volcanology and Seismology to request assistance from VDAP assistance. Together, they installed monitoring networks and estimated the potential for a cataclysmic eruption. With input from VDAP, the U.S. military opted to evacuate more than 15,000 service personnel and dependents from Clark Air Force Base. Evacuations of nearby towns and villages saved between 5,000 and 20,000 lives, and hundreds of millions of dollars' worth of equipment was moved or protected before the volcano erupted just days after the evacuation.
Additional Resources