Successful Crisis Response by Indonesia's First-Class Volcano Response Team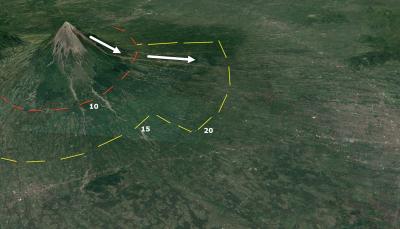 A 2010 decision to extend evacuation zone from 15 to 20 km (yellow dashed line, 9 to 12 mi) at Merapi Volcano saved between 10,000 and 20,0000 lives from
pyroclastic flows
and floods (below arrows).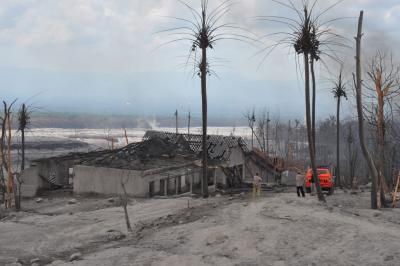 Thousands were saved by accurate eruption forecasts of Mount Merapi, Indonesia. House in the village of Kopeng, 6 km (3.7 miles) from summit of Mount Merapi, destroyed by the
explosive eruption
.
In 2010, and at the request of the President of Indonesia, a VDAP team was deployed to assist the Indonesian Center for Volcanology and Geologic Hazard Mitigation (CVGHM) in their response to the largest eruption of Merapi Volcano in the past 100 years. On October 22, Indonesian scientists recognized that the volcano was experiencing earthquakes, gas emissions, and ground movements far more intense than its usual level of eruptive behavior. VDAP tasked all available satellites to track growth of a lava dome at the volcano's summit, and radar images penetrated the clouds that normally block visibility. The images helped VDAP's partners at the CVGHM in forecasting deadly pyroclastic flows (scorching clouds of ash and rock particles that sweep downhill). October 25, local authorities evacuated everyone living within 10 km (6 mi) of the summit. Twenty-three hours later, explosions sent the first searing pyroclastic flows to a distance of 8 km (5 mi).
Over the following 10 days, VDAP and its Indonesian partners used satellite radar data to track the rapid extrusion of lava at the summit, and forecast the potential for an even larger event. On November 4, based on the remote sensing information and increased seismicity, CVGHM called for evacuations to be extended to 20 km (12 mi) from the summit, just hours later—the largest eruption in 100 years at Merapi generated pyroclastic flows and surges that decimated the landscape, traveling as far as 15 km (9 mi) from the summit. The timely warnings and evacuations during the 2010 eruptions saved between 10,000 and 20,000 lives.