Eruption Forecasts Become More Accurate with More Data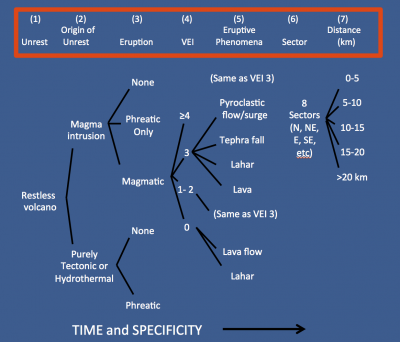 Example of an event-tree schematic used when forecasting the probable scenarios that may play out in the event of volcanic unrest or eruption. Scenarios are updated as events unfold.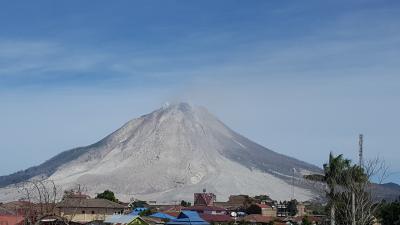 Sinabung Volcano, Indonesia. Fresh eruption deposits visible on the flanks. Photo taken between small explosive events in 2016.
Having tools to monitor and evaluate the signals that volcanoes produce is necessary to make successful eruption and hazard forecasts. Besides its role in equipment development, VDAP creates and distributes software that is used globally, assisting volcano observatories with data assessment and interpretation. Yet, forecasts also depend upon understanding the outcomes of past activity at volcanoes around the world. Statistical models and supporting data serve as the tools required to make reliable forecasts. VDAP staff work with academic researchers, volcano observatories, and the body of scientific publications to create new tools to predict volcano behavior.
Estimating Eruption Duration for Sinabung Volcano
In 2015, VDAP staff assisted Indonesian partners to estimate the likely duration of ongoing lava emissions at Sinabung volcano in northern Sumatra. Looking at global statistics and using a statistical model developed by university colleagues for similar eruptions, it was determined that activity at Sinabung would likely continue at least another three years. This forecast was instrumental in helping Indonesian authorities decide to permanently evacuate villages that were certain to remain in harm's way in the future.
Making Complementary Science More Robust
Another important role of VDAP is to develop methods to interpret volcanic signals such as earthquakes. Through years of monitoring, VDAP seismologists have observed and documented patterns of earthquakes that occur prior to different kinds of volcanic activity. Their pioneering research is now incorporated into eruption forecasts, and help seismologists around the world to understand the causes and implications of now commonly observed seismic phenomena.