Webcams
YVO Webcam at Yellowstone Lake
The camera view is south-southeast over Yellowstone Lake from the cell phone tower near Fishing Bridge. Stevenson Island is visible within the lake on the right. The view extends down the Southeast Arm between the Promontory (low ridge rising from the lake) and the eastern shore. Above the shore, the acid-bleached Brimstone Basin remains white even when the snows have melted. The Absaroka Mountains in the background are composed of approximately 50-million-year old volcanic rocks that long precede the current volcanic activity at Yellowstone, which started about 2.2 million years ago. We appreciate the assistance of Verizon and Hy-Lander Tower Services in installing the camera system.
This annotated view provides location details
.
Disclaimer:
This view is a single image from a research camera. Please be aware that the camera runs via cellular modem and is subject to sporadic breakdown, which may not be repaired immediately. At times, weather will obscure visibility.
Yellowstone National Park Webcams
Yellowstone National Park, View of Old Faithful Geyser as seen through the front of the visitor education center.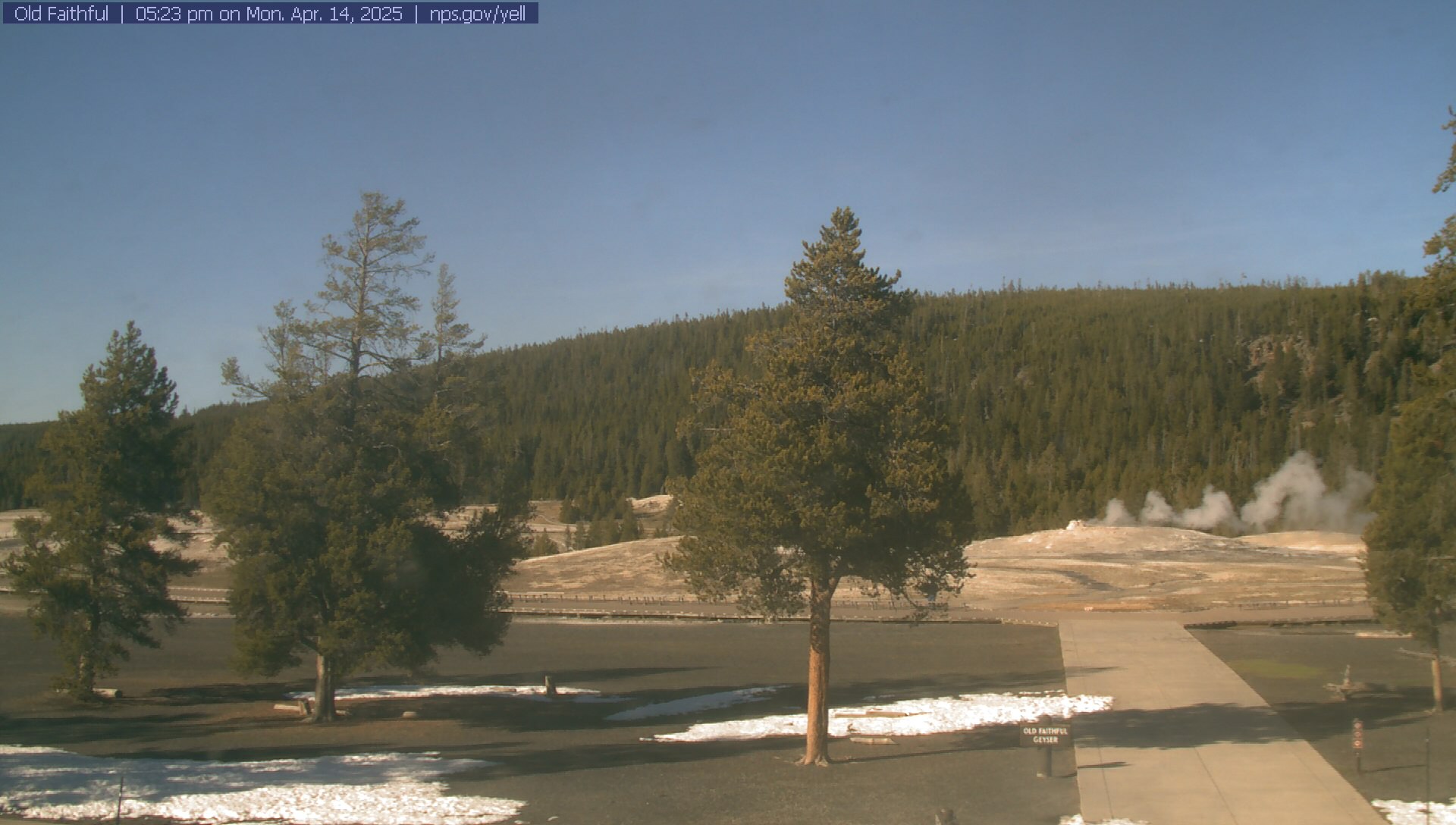 This camera at Mt. Washburn is pointed in a northeasterly direction and shows views of both the Absaroka and Beartooth Mountain Ranges.
This camera shows a view of a ridgeline on Mt. Washburn in the foreground, and the Grand Tetons, and portions of the Grand Canyon of the Yellowstone, and Yellowstone Lake in the upper right hand corner and background. The camera is pointed in a southerly direction and may be moved throughout the season to view significant fire activity.
Mammoth Hot Springs — Travertine Terraces and Parade Ground Webcam.