Monitoring Instruments and Data at Yellowstone
Click on map icons to access monitoring information for events and instruments.
= Yellowstone National Park
= Caldera
Legend
Show Available Quakes
Magnitude (range): Days ago (range):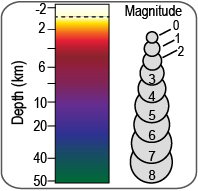 Earthquakes In Region
(Within magnitude and date range.)
Mag
Date/Time (UTC)
Depth (km)
Descriptions of volcano-monitoring techniques are available on the
Volcano Hazards Program web site
.