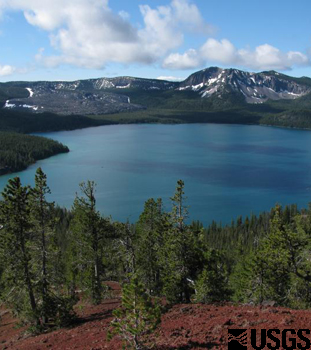 Newberry Volcano is the largest volcano in the Cascades volcanic arc and covers an area the size of Rhode Island (about 3100 km
2
or 1200 mi
2
). Unlike familiar cone-shaped Cascades volcanoes, Newberry was built into the shape of a broad shield by repeated eruptions over the past 400,000 years. Throughout its eruptive history, Newberry has produced
ash
and
tephra
,
pyroclastic flows
, and
lava
flows that range in composition from
basalt
to
rhyolite
. About 75,000 years ago a major
explosive eruption
and collapse event created a large volcanic depression at its summit that now hosts two
caldera
lakes. Newberry last erupted about 1,300 years ago, and present-day hot springs and geologically young lava flows indicate that it is still an active volcano.
Location:
Oregon; Deschutes, Klamath and Lake Counties
Latitude:
43.722° N
Longitude:
121.229° W
Elevation:
2,434 (m) 7,986 (f)
Volcano type:
Shield-shaped
Composition:
Basalt to Rhyolite
Most recent eruption:
1,300 years ago
Nearby towns:
Sunriver, Bend, LaPine, Redmond
Threat Potential:
Very High
*