Monitoring
Click on map icons to access monitoring information for events and instruments.
Instrument locations are approximate.
Legend
Show Available Quakes
Magnitude (range): Days ago (range):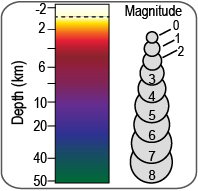 Earthquakes In Region
(Within magnitude and date range.)
Mag
Date/Time (UTC)
Depth (km)
USGS and UNAVCO seismic and geodetic networks provide real-time volcano monitoring data.
Earthquake
activity has been low for the last few decades and ground
deformation
negligible.