Golden Trout Creek volcanic field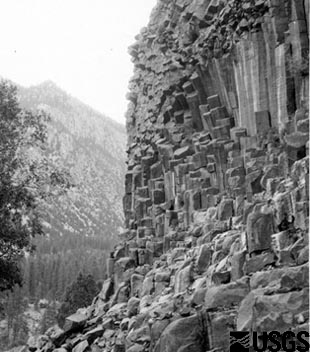 The Golden Trout Creek volcanic field consists of a group of
Quaternary
basaltic
cinder cones
and
lava
flows in the Toowa valley of the Sierra Nevada about 25 km (15.5 mi) south of Mount Whitney, California.
Lava
flows from the Golden Trout Creek volcanic field erupted through granitic rocks of the Sierra Nevada
batholith
during several episodes dating back to about 743,000 years ago, when the Little Whitney
cinder cone
and lava flows were erupted. The South Fork cone was erupted about 176,000 years ago and produced the largest
lava flow
of the volcanic field, which traveled 10 km (6.2 mi) to the west, possibly as far as the floor of Kern Canyon. Tunnel cone to the north of South Fork (Red Hill) cone is undated, but its lava flow is overlain by glacial deposits and it is thought to be only slightly younger than South Fork cone. The youngest lava flow, from Groundhog cone, is thought to be about 5-10,000 years old (Moore and Lanphere 1983). The lava flow from Groundhog cone traveled 6 km west down Golden Trout Creek on top of the older flow from South Fork cone.
Location:
California, Tulare County
Latitude:
36.358° N
Longitude:
118.32° W
Elevation:
2,886 (m) 9,469 (f)
Volcano type:
volcanic field
Composition:
basalt
Most recent eruption:
5,000 to 10,000 years ago
Threat Potential:
Low/Very Low
*