Monitoring
Click on map icons to access monitoring information for events and instruments.
Instrument locations are approximate.
Legend
Show Available Quakes
Magnitude (range): Days ago (range):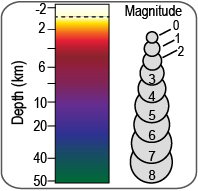 Earthquakes In Region
(Within magnitude and date range.)
Mag
Date/Time (UTC)
Depth (km)
The U.S. Navy monitors
earthquake
and geothermal activity within Coso Volcanic Field. Small to moderate
earthquakes
, some due to the geothermal resource, are common.