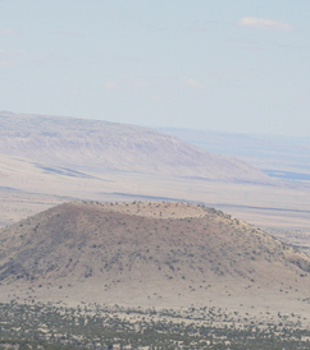 Bald Knoll (2,135 m, 7,004 ft) lies 33 km (20 mi) northeast of Kanab, Utah. The knoll is a scoria cone 110 m (360 ft) high with a well-preserved summit crater about 280 m (920 ft) in diameter. It is thought to be the youngest of several basaltic vents scattered across the southwestern part of the Paunsaugunt Plateau in southern Utah. The Bald Knoll vent shed a lava flow that covers about 13 square km (5 square mi). Flow thickness is about 12 m (40 ft) where exposed downslope in Johnson Canyon, but the main mass of the lava flow is only slightly eroded, and thickness there may two to three times greater. Total volume is probably in the range 0.1-0.2 cubic kilometers (0.02-0.05 cubic miles).
Although youthful in appearance, the Bald Knoll lava is late Pleistocene in age. Field evidence that favors such antiquity is twofold: (1) the veneer of alluvial sediment that has buried the margins of the lava flow and (2) the extent of erosion along a 3-km stretch of Johnson Canyon. Johnson Canyon isn't rugged, and its creek runs only intermittently, so complete stripping of the lava flow there indicates the passage of substantial time.
The Bald Knoll lava is undated, but radiometric ages of 0.37 and 0.34 million years have been reported from nearby Quaternary lava flows at Virgin Flats and Volcano Knoll, respectively. Those lava flows form topographic benches that stand somewhat higher along adjacent streams than is the case for the Bald Knoll lava. Therefore the Bald Knoll lava flow is probably younger than 0.3 Ma. Previous suggestions that Bald Knoll was only a few hundred years old stem from geologic mapping in the mid-20th century, before the advent of radiometric dating.
Location: Utah, Kane County
Latitude: 37.328° N
Longitude: 112.408° W
Elevation: 2,135 (m) 7,005 (f)
Volcano type: cinder cone
Composition: basalt